Game of Thrones Slot: An Immersive Journey Through Westeros
Dive deep into the realm of Westeros with the Game of Thrones 243 Ways slot, an authentic representation of the acclaimed HBO series that has taken the world by storm. Powered by world-class developers, this slot not only offers thrilling gameplay but also pays homage to the intricate tales of the noble houses and their feuds. Let's embark on this intriguing voyage.
Game of Thrones Slot Review
Game of Thrones 243 Ways is a compelling slot that invites players to relive the grandeur of the epic TV series. With its sophisticated design, the game draws you into its world, letting you side with one of the main Houses of Westeros. Each House promises its unique perks, making every gameplay a novel experience.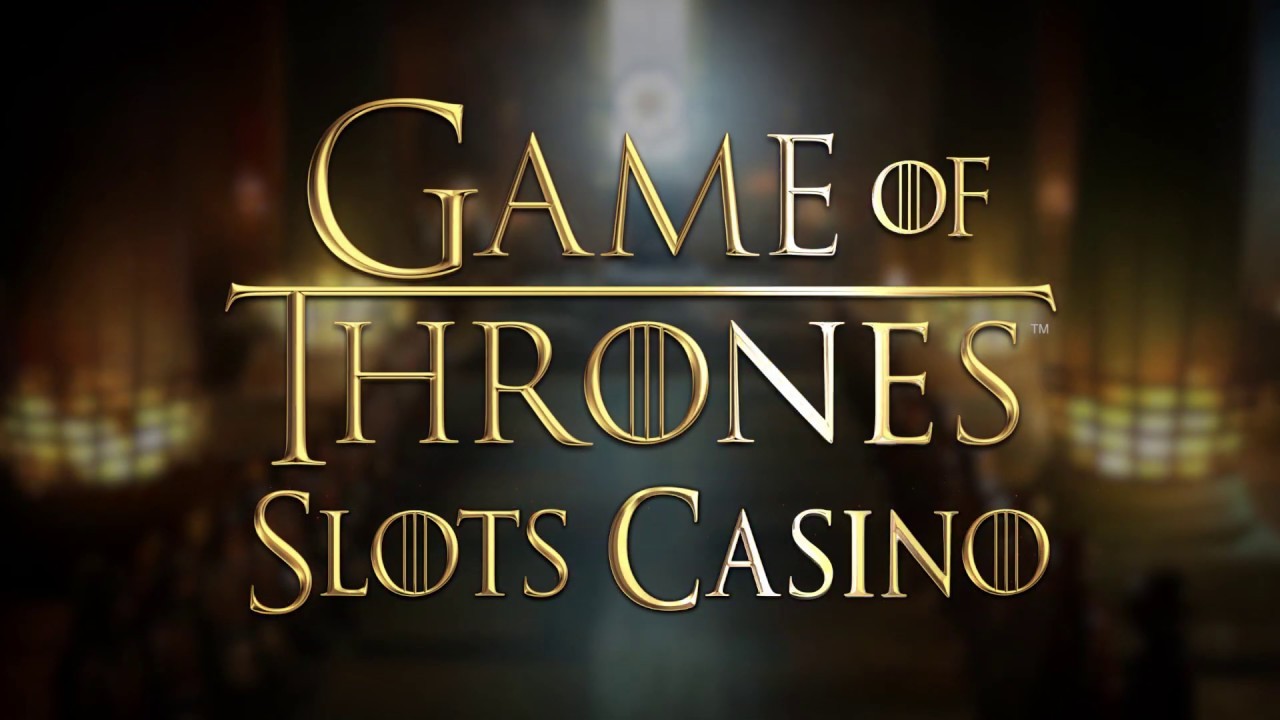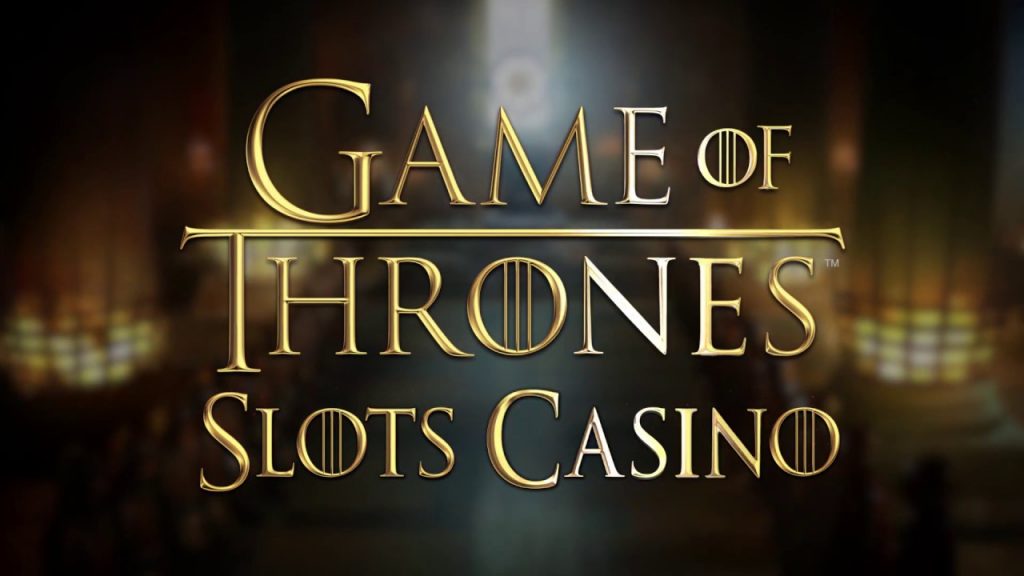 Specifications & Key Features
Provider: Microgaming
Layout: 5 reels x 3 rows
Paylines: Choice of 15 or a whopping 243
RTP: Two versions available, 96.4% or 95%
Volatility: Ranges from Medium to High
Betting Range: Starts from 0.15, scaling up to 6.0
Max Wins: Secure up to 121,000 coins with the 243 paylines version
Engaging Bonus Features: More than Just Spins
House Loyalty Free Spins
Pledge your allegiance to a House and get rewarded. Each House grants a distinctive combination:
House Baratheon: 8 spins, 5x multiplier, 3 stacked symbols
House Lannister: 10 spins, 4x multiplier, 4 stacked symbols
House Stark: 14 spins, 3x multiplier, 5 stacked symbols
House Targaryen: 18 spins, 2x multiplier, 6 stacked symbols
These spins can be re-triggered, amplifying your winnings further.
Scatter Bonus
Secure 2 Game of Thrones scatters and unveil a bonus, granting you a cash prize, augmented by your initial stake.
Gamble Trail Feature
A post-win treat, this feature enables you to boost your earnings. There are four unique stages:
3-Eyed Raven
The White Walker
The Direwolf
The Dragon
Each level offers clips straight from the series, relishing authentic moments of the saga.
Max Wins and Jackpots
While the slot does not boast a specific jackpot, the potential winnings are enticing. Relying on the version you opt for, amass up to 75,000 or 121,000 coins.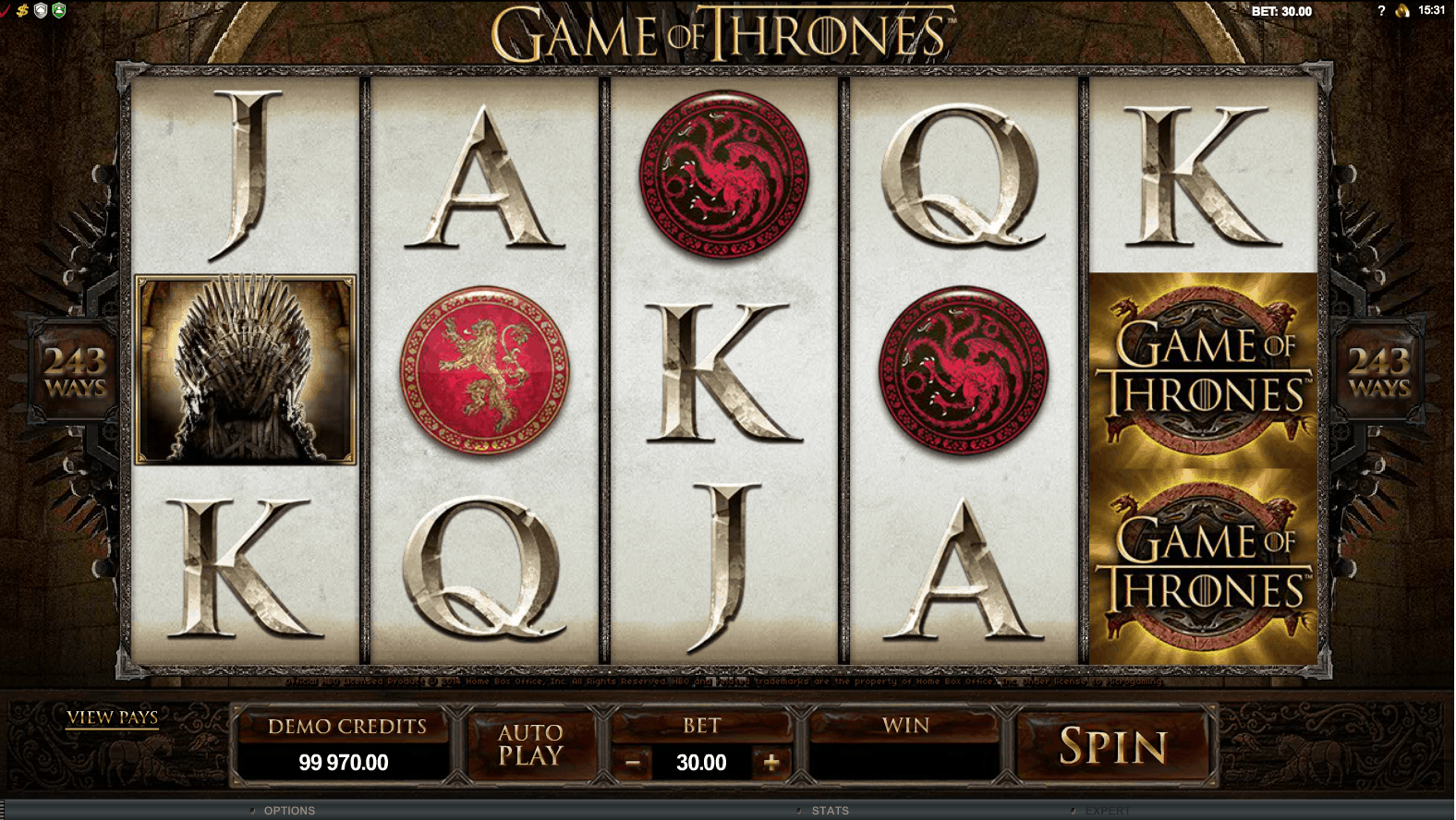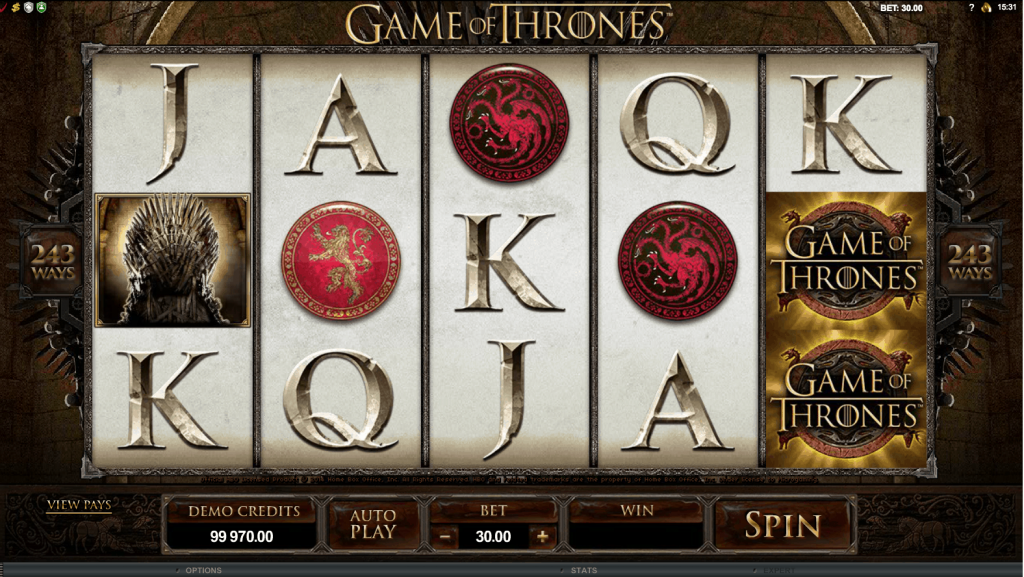 Game of Thrones Slot: Free Demo Play for Unparalleled Fun
Game of Thrones Slot stands as an epitome of entertainment, especially for fans of the iconic series. Before venturing into the world of real-money gambling, players often seek avenues to test and understand the game dynamics. The free demo version of the Game of Thrones Slot is just the right platform for this.
Why Play the Free Demo?
Risk-Free Entertainment: The demo version allows you to immerse yourself in the enthralling world of Westeros without wagering any real money, offering pure, unadulterated fun.
Familiarize with Game Mechanics: Understanding the symbols, bonus rounds, and paylines can significantly enhance your gaming experience. The free demo provides an opportunity to get comfortable with these elements, ensuring you're well-prepared when you transition to the real-money version.
Strategy Formulation: Every slot game is unique in its payouts, volatility, and game mechanics. Playing the free demo lets you devise your strategy, understand the frequency of wins, and gauge the game's volatility.
Pure Fun without Commitments: Not everyone aims for the jackpot. Some just want to enjoy the beautifully crafted graphics, relive the moments from their favorite series, and have a good time. The demo version is perfect for casual gamers.
Mobile Optimization: Benefits of Playing Game of Thrones Slot with App
In today's fast-paced world, flexibility and adaptability are crucial. The Game of Thrones Slot doesn't lag in this domain. It's fully optimized for mobile devices, ensuring players have a seamless experience, irrespective of their device of choice.
Device Agnostic: Whether you're an Android enthusiast, an Apple aficionado, or a Windows loyalist, the game adapts perfectly to your device's screen size and resolution.
Intuitive Interface: The mobile version retains the game's intuitive interface, ensuring that even on smaller screens, players can easily select paylines, place bets, and spin the reels.
No Compromise on Graphics: Mobile optimization doesn't mean sacrificing the visual appeal. The Game of Thrones Slot retains its high-definition graphics and animations, ensuring you don't miss out on any detail.
Battery Efficient: Game developers understand the constraints of mobile devices. The Game of Thrones Slot is designed to be power efficient, ensuring extended gameplay without draining your battery.
Instant Play: No downloads, no installations. Access the game via your mobile browser, and you're all set to dive into the world of Westeros.
Conclusion
The Game of Thrones Slot seamlessly captures the essence and grandeur of the globally acclaimed TV series, offering both casual gamers and avid punters a chance to experience Westeros like never before. With rich graphics, immersive gameplay, and bonus features that mirror the intricacies of the series, this slot is more than just a game—it's a journey through a beloved narrative. Whether you're in it for the thrill of the gamble or the love of the lore, the Game of Thrones Slot promises an unmatched experience.
FAQs
What is the Game of Thrones Slot based on?
The slot is based on the popular HBO series 'Game of Thrones', drawing inspiration from its characters, settings, and iconic moments.
Can I play the Game of Thrones Slot for free?
Yes, there's a demo version available that lets players enjoy the game without wagering real money.
Is the game optimized for mobile devices?
Absolutely! The game is fully optimized for a range of mobile devices, including Android, iOS, and Windows smartphones and tablets.
What are the main bonus features in the game?
The game boasts several bonus features, including free spins, scatter bonuses, and the unique Gamble Trail feature, each offering different rewards and opportunities.
How does the Game of Thrones Slot compare to other slots in its genre?
With its rich graphics, thematic authenticity, and engaging bonus rounds, the Game of Thrones Slot stands out as one of the top branded slot games in the industry.